John Ford, Sr. &
Elizabeth England
Descendants & Ancestors
SURNAMES I AM RESEARCHING: BARGER, BINGHAM, BRISTOW, BROWN, CHAPLAIN, COLVILLE, ENGLAND, FLYNN, FORD, HENDRICKS, HENDRIX, HICKS, LODEN, LOGAN, LYNCH, MADDUX, MOON, RENFRO, RYAN, SWANN, TOLLETT
TABLE of CONTENTS
WELCOME & INTRODUCTION
JOHN FORD, SR. & ELIZABETH ENGLAND
REUBEN WM. FORD & SUSANNAH LODEN
JAMES FORD & CATHERINE ?
ANDREW FORD, SR. & FRANCIS HENDRIX/HENDRICKS
ANDREW FORD & MARTHA MAE HICKS
CIVIL WAR PAGE
FAMILY PHOTO ALBUM
MADDUX/MOON CONNECTIONS
UNSOLVED MYSTERIES
SOURCES & LINKS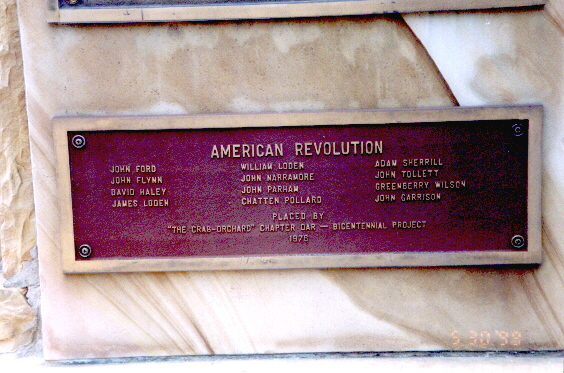 The following was extracted from the Revolutionary War Record abstract of pension file for the veteran, John Ford, Sr.

Pension #W11000 - On Feb. 11th 1833, John Ford Senior declares that he enlisted in Fluvanna County, Va. in the Militia, Capt.Thomas Thurman's Barracks, where he guarded British prisoners; thinks Commander at Barracks was Capt. Holman Rice. Gives no term of service at Barracks. About a year afterward he enlisted in the company of Samuel Richardson, of which William Bibee was Lieut. and Walter Johnson Ensign. He marched to Richmond, then to Williamsburg, New Castle, Little York; back to Williamsburg and to Shirley Hundred, 16 miles below Richmond, where he was discharged. He cannot remember length of term but served it out; shortly before being discharged he saw MARQUIS de LAFAYETTE. He again enlisted in Fluvanna County VA. under Captain Richard Napier and marched to Richmond & down the James River to Wobbin Hills where he was discharged.
John Ford, Sr. was born in Albermarle County Va. on Nov. 13, 1762; HAD HIS FATHER'S BIBLE, lived in Fluvanna County for 16 years after the War, then went to Roane County Tn., living there for 8 years, and has lived in Bledsoe Countyfor about 16 years. The Rev. William Hail & John Narramore, J.P., are character witnesses. He aquired the following grants from the State of Tennessee:
GRANT 38332 - 1823 - 28 acres in Eastern District - cf.Book 7, page 254
GRANT #8333 - 1823 - 10 acres in Eastern District - cf.Book 7, page 255
GRANT #10501 - 1825 - 50 acres in Eastern District -cf.Book
10, page 433
GRANT #70 - 1828 - 77 acres in Mountain District-cf. Book A page 49 - with Joseph B. McClendon

Elizabeth England
On August 21, 1844, Elizabeth Ford is aged 80, and says that her husband John died on Aug. 5 1844 and is buried in the Grassy Cove Methodist Cemetery with a marked grave. He married Elizabeth England in Fluvanna County Va. on April 12, 1785. She died on Sept. 30, 1845, John F. Greer certifies as J.P. Jane Matthew (s) certifies that John and Elizabeth Ford lived together for 50 years as husband & wife. On Sept. 2, 1844, John Thomas is Clerk and J.P. who attests Jane Mathis' testimony are James Orme, Samuel Rankin, and W. Brown, Chariman' Reuben Ford signs as witness to his mother, Elizabeth's claim. Also Nancy Loden, formerly Nancy Ford, testifies to identity of Elizabeth as widow of John Ford and give their children as follows: date of her testimony is April 16, 1851.
ELIZABETH ENGLAND was born 15 Dec 1764 and died 30 Sept 1845. Her parents were JOHN LEA ENGLAND, born abt 1740 in Goochland, Virginia, died 1768, Goochland, Virginia and ANNE EUBANKS 15 Dec 1764 in Goochland, Va.

John Ford, Sr. married Elizabeth england on April 12, 1785 in fluvaNNa county, Virginia. they had the following children:

i. Jane Ford (born ca. 1786, Fluvanna County, VA) married Richard Matthews (born 1782, Buncombe County, North Carolina). To this union:


James W. Matthews (born 2 Nov 1827, Grassy Cove, Bledsoe County, TN)

ii. Sarah Ford (born abt. 1793, Fluvanna County, VA, died 24 April 1870, Little Cove, Cumberland County, TN) Sarah is buried in Little Cove which is a part of or connected to Grassy Cove. When she moved there with her parents it was Roane County then became Bledsoe and today is Cumberland County. Sarah was married first to Will Stubbs (born 29 Sept 1812, Roane County, TN). They have one son:


JOHN STUBBS, born 9 July 1813
SARAH marries 2nd time, NATHANIEL BRISTOW b. 3 May 1792 in Buncombe County NC. He is Welsh descent. He died 15 Nov 1871 and buried in Little Cove Cemetery which is a part of Grassy Cove Community. They have 3 children:

MARY BRISTOW born 1814/22

WILLIAM S BRISTOW born 31 Dec 1824 and died 9 Feb 1899

GEORGE W BRISTOW born 19 Jun 1826 died 19 Jul 1892

iii. Dr. John Ford (born 25 Dec 1796, Fluvanna County, VA, died 7 Oct 1863, Grassy Cove, TN) He married MARY NANCY LODEN who was born 18 June 1800 in VA and she is deceased 3 Dec. 1874, buried in Grassy Cove, Cumberland County ,TN. Their children were:


Thomas Wesley Ford (born 21 May 1821, Grassy Cove, Bledsoe County, TN, died 7 June 1885 in Grassy Cove, a part of Cumberland county)
Thomas married three times and had lots of children with most of them remaining in the Grassy Cove area, a part of Cumberland County. He has real estate of 6,000 acres in land & 250 in personal property in 1870 so he was a large landowner in Grassy Cove.
First marriage was to LOUHANEY "HANEY" BARGER, born 1815/25 in TN, married abt. 1847. Second, he married LETITIA TOLLETT born 1 Aug. 1833 in Bledsoe County Tenn. She died 10 May 1876 and is buried in Tollett Cemetery, and listed in Cumberland County Cemetery Book as daughter of John and Nancy Tollett, pg. 162. Her name is SARAH L. but goes by Letitia. (According to a personal history from a cousin living in the Cove today, Letitia was married before to a SHERRILL, 1st name unknown. This would explain the 2 boys living in the household of T.W. Ford in 1870. They are JOHN SHERRILL, born in 1852, and CRAVEN SHERRILL, born 1856.
Thomas Wesley then married #3 ELIZABETH BROWN, born 1833/ in TN, and there is no issue. Her parents are DANIEL AND NANCY BROWN.
Thomas Wesley Ford and Haney Barger had ROBERT ELIJAH FORD born 6 Feb 1855 in Tenn. and married "MATTIE" MARTHA MELINDA RHODES on 12 Jan 1888 in Fannin County TX. She was born 20 Jan 1869 in Ark to ISAM RHODES and CYNTHIA PALMER. She died 21 Sept 1938 in Norman, Okla, Cleveland County. She was a housewife and member of Eastern Star. They had 4 children: ROY ISAM FORD born 23 Dec 1888, died 1 Feb 1921; BERTA MAY FORD born 8 Oct 1890 and died 18 May 1917; HYLA HESTER FORD born 23 April 1893; ROBERT PAGE FORD born 13 May 1895 .

John Fletcher Ford (born 18 Mar 1825, died 1904 or 1907, Grassy Cove, TN)
John Fletcher Ford, who never married, lived with his brother Chris A. and spinister sister Mary J. in Grassy Cove where they lived until their death. I have copies of a letter written by their great-niece who lived in the home with them and kept house for them in their old ages. J. F. Ford is buried with his brother & sister in Grassy Cove Methodist Cemetery.

Christopher Archibald Ford, born 5 Nov 1833 in Grassy Cove, Bledsoe County ,TN. Married about 1857 to ELIZABETH A SWAN, born ca.1832/34 in TN. They had 2 children, daughters, MARGARET F FORD, born 1858/59 in Grassy Cove Tenn., Cumberland County and #2. LILLY ANN FORD, born ca. 1860 in Grassy Cove, TN.

ELBERT HENLEY FORD, born ca.1829/34 in Grassy Cove, Bledsoe County. He was a Civil War soldier and a farmer. He was the son of Dr. John and Nancy Loden Ford. He married ELIZABETH "JANE" BACON 19 Jul 1853 in Roane County Tenn. She was born in 1834 and the couple had 8 children: MARY R FORD born 1854/56; SARAH E FORD ca 1856; EMILY FORD ca.1858; TENNESSEE FORD 1863, died in childhood; ROBERT E FORD, Aug 1874 and died 22 Oct 1964; BETTY FORD; CAROLINE FORD; MATTIE FORD.

Mary Ford, born 20 Feb 1836 in Grassy Cove, Bledsoe County, TN in the old Ford homestead. Mary never married. She died 21 Feb 1900 in Grassy Cove, TN, now Cumberland County. She is buried in the Grassy Cove Methodist Church Cemetery.

ELJAH JEHU FORD , 5th son of Dr. John Ford and Nancy Loden Ford was called "Lige" or Little Dock" nicknamed after his father. He was born in 1837 and died in 1864 in a Military Prison, Camp Chase, Ohio. He is buried in a Confederate Cemetery in Nashville, Tenn.
He married MARY DORTON, She was the dtg. of JOSEPH DORTON SR & REBECCA DAVENPORT. She and E.J. Ford had one child, MARTHA ELIZABETH "BETTY" FORD, born 21 Feb. 1861 and died 26 April 1916.

iv. Nancy Ford (born ca. 1798, Fluvanna County, VA) Nancy married William Loden II ( born 1798/99,VA, died between 1860/70 in Little Cove TN, Cumberland County) He is the son of William Loden and Polly Gibson. They have 7 children:

JAMES LODEN born 1818

MARY "POLLY" LODEN born 1822 and died in 1880

BETSY (ELIZABETH) LODEN, born 1825 in Bledsoe County Tenn

REUBEN LODEN born 1829 in Bledsoe County Tenn

WILLIAM LODEN III born 26 Jan 1827 and died 7 Nov 1912 in Bledsoe County Tenn

BENJAMIN LODEN born 1832 and died 14 March 1862 in Bledsoe County Tenn

SUSANNAH LODEN born 1835 in Bledsoe County Tenn

v. Mary Ford (born 11 Nov 1800, Fluvanna County, VA, died 23 Apr 1893) Mary (who went by Polly) married WILLIAM RENFRO born 10 Jan 1801, VA, died 10 Jan 1888. Buried beside wife Mary "Polly" Ford in Grassy Cove Methodist Cemetery. He owns 1,850 acres and is Justice of the Peace. They have 9 children:

ROBERT AMOS RENFRO born 16 feb 1821 and died 8 March 1895

GEORGE W RENFRO born 15 Aug 1823 and died 14 Oct 1889

WILLIAM W RENFRO born ca1826

JOSHUA J RENFRO born ca.1829

LAWRENCE MARION "MARION" RENFRO born Feb. 1832

ELIZABETH RENFRO born 15 May 1834 and died 8 April 1873

JACK RENFRO born Oct. 1835

MARK RENFRO born ca1838

JANE RENFRO born ca1841

vi. Reuben Ford (born 1802/1806, Fluvanna County, VA, died Oct 1888) In 1824, Rueben married Susannah Loden, born 1802.